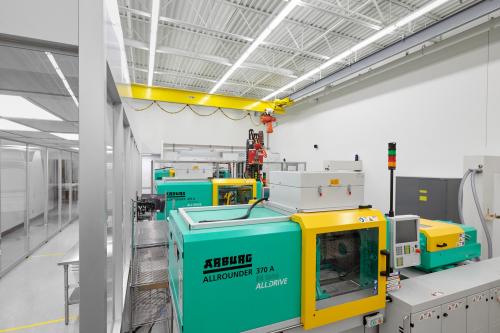 We are expanding our hardwall clean room molding area using the Arburg clean room technology. Our first installation was 3 years ago with 3 presses feeding a Class 7 hard wall clean room bay. Now we are adding another 3 presses and extending the bay.
With a HEPA filter mounted on top of the press, the press essentially becomes the clean room. The design employs many more air changes per hour around the mold and parts than a traditional approach, rapidly diluting the particulate generation inherent with each
shot in thermoplastic injection molding.
This clean room concept also minimizes the exposure of parts to foreign material due direct or cross contamination between work cells caused by purging, water or hydraulic leaks, and human interaction associated with traditional hard wall clean rooms where the entire molding machine is inside the clean room.
Thank you for all your help Vinnie Berger at Arburg!