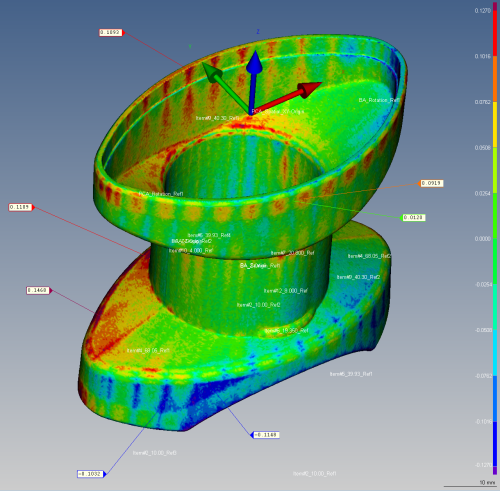 In an effort to provide the most capable and fully-featured metrology lab possible, we've expanded our capabilities into CT scanning.
Working with our CT scanning partner, we can now generate a full 3D scan of a customer's part with a 4.5μ accuracy in a matter of hours. CT scanning allows us to perform complex first article inspection reports relative to a dimensioned CAD model within minutes of a completed scan including nominal to actual CAD comparison "heat maps" and full metrology breakdown. This rapid feedback can guide important decisions early on in the qualification process.
The analysis of these complex 3D models requires a purpose built PC. When researching the recommended specs for our new software suite, it became clear that we would have to build it ourselves. With our recommended specs in mind we set about building a PC that met our needs comfortably using highly reviewed, name-brand components we knew and trusted. This included a server-based storage solution to create a digital archive of retained scans that can be accessed at any point for further scrutiny without the need to re-scan.
This exciting new capability was a result of a collaborative effort that included our metrology, technology, and process improvement team.